The Extragalactic Distance Scale

---
What do we mean by distance?
Luminosity distance, angular size distance, etc all reduce to "normal" geometric distances at low redshift (i.e., nearby universe).

For small z

, Taylor expansion of comoving coordinate distance and luminosity distance, for example, looks like this:





and similar for dA(z), etc. so as z-->0, all these distances converge to cz/H0, or Hubble's law: v=H0d.




So why do we need to get this right?
Astrophysics:

turn observed properties of objects (apparent magnitude, angular size) into intrinsic properties of objects (luminosity, physical size)
Measure H0:

Cosmological parameter, want local, independent confirmation of cosmological measurements at high redshift.
Once measured, can use it as a distance indicator (Hubble distance: d=v/H0)

Measure peculiar motions in the universe:

vobs = H0d + vpec
if we know distance

independent

of redshift, we can look for large scale velocity structure in the universe
Important Complications:
An accurate measure of H0 means getting out to a distance where vpec<<H0d.
Distances

within

clusters (ie with accuracies of +/- few Mpc) are

not knowable

via Hubble's law.
Need

several

distance estimators to reduce systematic errors between methods.
The Distance Scale Ladder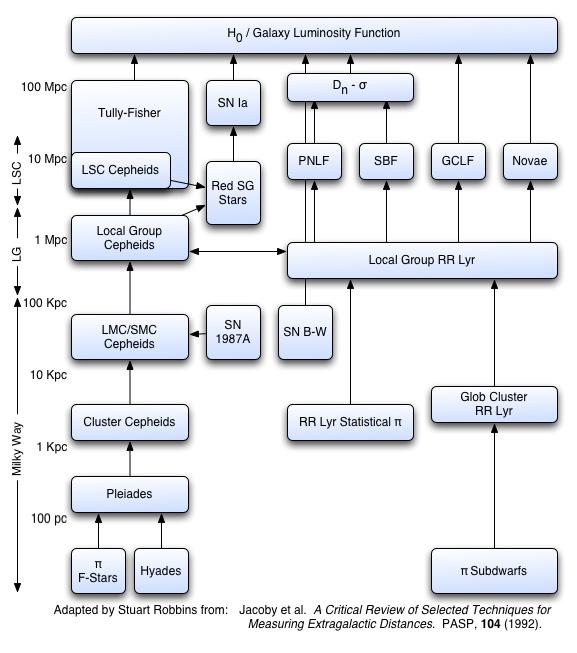 Uncertainty propogation through the distance ladder: for small uncertainties,


magnitude error ~ fractional luminosity error
distance error ~ 0.5 * distance modulus error
Cepheid Distances via Hubble (example: M101, of course!)

from Kelson etal 1997: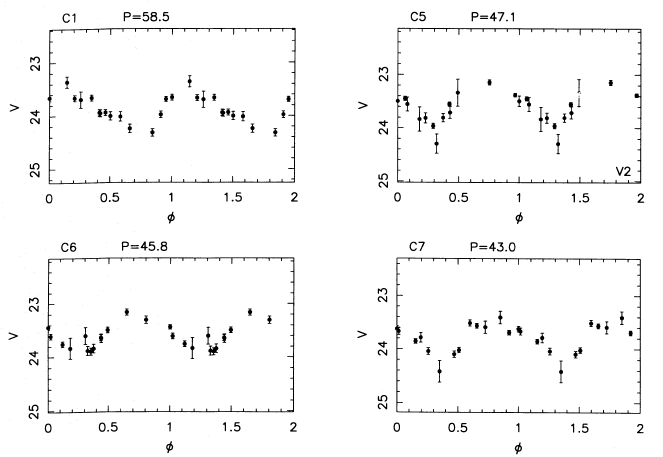 Cepheid (only) H0 Estimate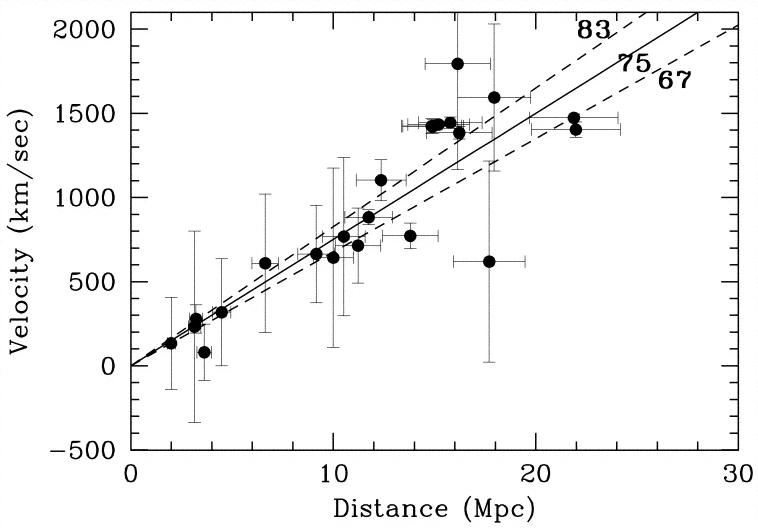 The purpose of the HST Cepheid Key Project was not to get H0 directly, but to improve calibration of other distance indicators!