The Disk of the Milky Way

---
The dominant stellar component of the Galaxy is the disk, a flattened (rotating) disk of stars like what we see in this image of the nearby Andromeda galaxy:

The density of stars drops off exponentially as you move outwards in the Galaxy, or as you move up or down off of the Galactic plane:

where z is the height above (or below) the plane, and R is the radius in the disk. z0 and h are referred to as the scale height and scale length of the disk, respectively, and are the distance over which the density drops to 1/e ~ 0.37 of its maximum.
The scale length of the disk is something like h ~ 3 kpc, and the Sun orbits the Galaxy at a distance of about 8 kpc, so we are in the outer parts of the Galaxy.


The disk is thin, as can be seen in this picture of the nearby edge-on galaxy NGC 891.

The disk actually is made up of several different components, or stellar populations, and the thickness is different for each one. There is

the young thin disk of gas and young stars (z0 ~ 50 pc)
the old thin disk of older stars like the sun (z0 ~ 300-400 pc)
the thick disk of older, metal-poor stars (z0 ~ 1- 1.5 kpc)

The Milky Way is a spiral galaxy, hard to easily trace spiral structure from the inside, but let's look at a nearby spiral galaxy, M101 (courtesy Robert Gendler):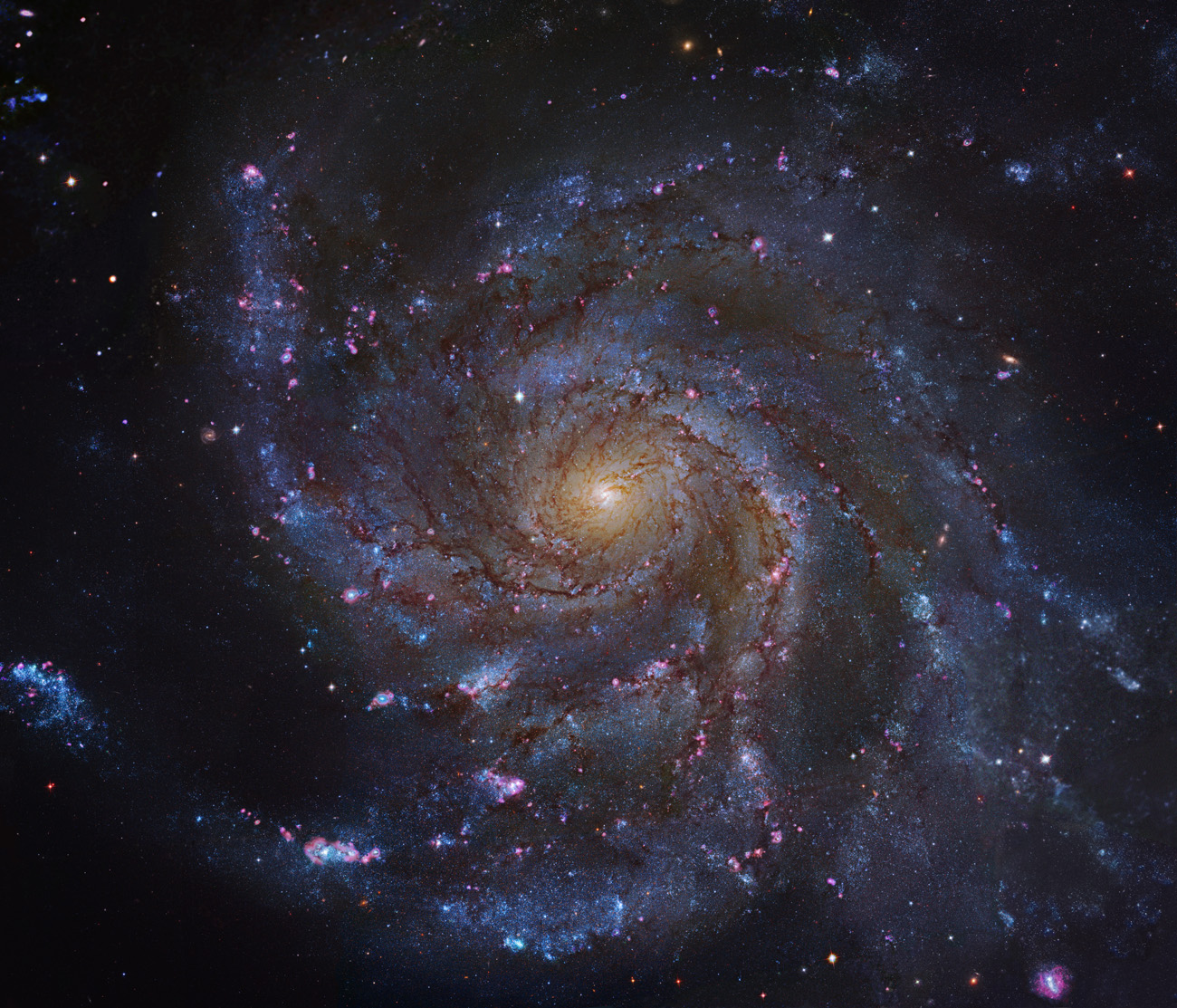 If we look at M101 in different wavelengths of light, we see different components of the galaxy (Lin et al ApJ 2013):



Ultraviolet: Hot young stars





Optical: Normal stars







Near infrared: Old stars







Mid infrared: Warm dust heated by young stars

Our Milky Way shows similar spiral structure