Interiors of the Outer Gas Giants

---
Things to think about:
Why does Saturn have a lot of excess heat?
What does the increasing density of the gas giants at larger distance tell us?
How does temperature and mass affect things?
---
The Phase Diagram revisited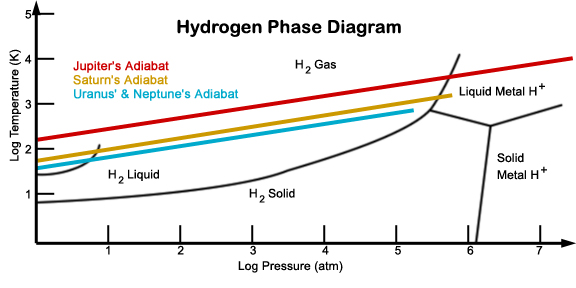 Differences from Jupiter:

Lower mass --> lower central density and pressure
Saturn: smaller metallic hydrogen core than Jupiter
Uranus & Neptune: no metallic hydrogen core
Lowered temperature: transition from gaseous H2 to liquid H2 is distinct -- liquid hydrogen "ocean"?

Why does Saturn have a high temperature?
Liquid hydrogen and liquid helium are immiscible - they do not mix (like oil and water).

What happens to the heavier helium?
How would this produce heat?
What does this predict about the chemical composition of Saturns's atmosphere?
But Uranus & Neptune are not primordial composition (they have more heavy elements), so this phase analysis may not be particularly applicable to them.
Instead of pressure ionizing hydrogen, in U & N, we may have ionized water (particularly H 3O+ and OH-) forming an ionic ocean deep inside the planets. Such an ionic ocean can dissolve ammonia, but not methane -- U & N have methane rich atmospheres.

Danger: these are not oceans like the Earth's, but rather material in liquid states at high temperature and densities. No surfing allowed!